JOIN Art Quest—Public Art Scavenger Hunt & Community Workshops
This summer, AURORA is launching
Art Quest
⁠—a month-long, public art discovery and workshop program with an exciting game element. It will take place every Saturday from July 9th to August 6th, 2022 in five Dallas neighborhoods: Bonton Neighborhood, Vickery Meadow, Bachman Lake, Pleasant Grove, and Jubilee Park.
AURORA has commissioned five valuable art objects developed with 3D printing technologies—by
Victor Enam
,
Heather Gorham
,
Brooks Oliver
,
Andrew Scott
, and
Eric Trich
—which will be placed weekly at a new secret outdoor location. The first finder will be able to collect the artwork on the spot, along with a certificate of authenticity, and meet the artist who created it.
Click here to learn more.
VIDEO ART NIGHTS COMING TO DALLAS OUTDOOR PUBLIC SPACES IN APRIL
Video Art Nights⁠—AURORA's five-night video projection program, developed together with
Downtown Dallas, Inc.
in celebration of
Dallas Arts Month
—kicks off on Friday, April 1st at 8 pm at West End Square. It will continue each Friday evening in April at parks and outdoor surfaces in Downtown Dallas, with projection programs curated by the New Media Cooperative, Bart Weiss, and Andrew F. Scott.
Click here to learn more.
WATCH THE FULL PROGRAM OF LIGHT YEAR 79: MOMENTARY
AURORA has teamed up with
LIGHT YEAR
to present an exciting program of video artworks projected onto the Manhattan Bridge in New York City, screened at SCOPE BLN in Berlin, and streamed on LIGHT YEAR's Facebook page on November 4th, 2021. The exhibition line-up, curated by Leslie Moody Castro, included artworks by six North Texas-based multimedia artists: Kelsey Baker, Jeremy Biggers, Melanie Clemmons, Hector Ramirez, Tramaine Townsend, and Jennifer Wester.
Watch the full program online
here
.
Click here to learn more.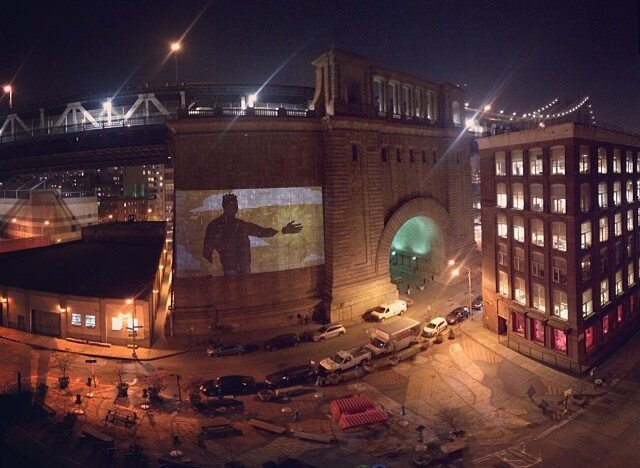 WATCH NEW STORIES: NEW FUTURES REGIONAL ARTIST TALK
On August 21, the Kimbell Art Museum hosted the second artist talk at their Piano Pavilion Auditorium with ten artists who took part in the supporting group exhibition of
New Stories: New Futures.
The talk was split into two blocks and moderated by the exhibition curator Dr. Lauren Cross.
The two-part talk, which was livestreamed on the Arts Council of Fort Worth's
Facebook page
, can be watched online
here
.
Click here to learn more.
WATCH NEW STORIES: NEW FUTURES ARTIST TALK WITH QUAYOLA AND REFIK ANADOL
On August 26, the Arts Council of Fort Worth hosted an online artist talk with Refik Anadol and Quayola, moderated by the
New Stories: New Futures
exhibition curator DooEun Choi. Watch the recording of the talk
here
to learn more about the artistic processes of the two artists whose large-scale public art installations were projected onto the iconic Pioneer Tower on August 20 and 21.
Click here to learn more!