< Home
ABOUT AURORA
A cornerstone of arts and culture in North Texas,
AURORA
aims to expand the future of art through a dialogue that engages the creative possibilities within ourselves and each other.
AURORA is a Dallas-based public arts organization working at the intersection of art, technology and community that presents works by the most visionary artists of our time. Through the
AURORA Biennial
exhibition,
AURORA Expanded
program and
AURORA Artist Relief Fund
, the organization engages with both regional and international audiences alike.
In the summer of 2021, AURORA partnered with The Arts Council of Fort Worth to present
New Stories: New Futures
, a two-part project that took place on and around Pioneer Tower in Fort Worth. Dallas-based artist Jess Garland's experimental film
Harp & Sol
is also available to stream exclusively on dallasAURORA.com as part of AURORA Expanded. Looking ahead, the AURORA Biennial will return in 2023.
AURORA was founded in 2010 by artists
Shane Pennington
and
Joshua King
, along with veteran Dallas arts supporter
Veletta Forsythe Lill
. The inaugural exhibition was a one-night-only public art event featuring light, video and sound artworks; now, AURORA exists as a multifaceted platform.
AURORA BIENNIAL
Since its foundation, the
AURORA Biennial
has transformed Dallas neighborhoods into curated, large-scale exhibitions,
free and open to the public
. The Biennial is also an important platform for exchange between regional and international artists and curators.
In 2020, AURORA Biennial launched its
10th edition
, titled '
Afterwards was already before
,' with a decentralized program created in response to the pandemic and which unfolded through live and online activations. The next AURORA Biennial will take place in 2023.
AURORA Biennial exhibitions have attracted more than 200,000 visitors and commissioned and presented over 300 local and international artists. The Biennial continues to expand its reach and impact, boasting a 5:1 return in economic impact to the city.
AURORA EXPANDED
AURORA's auxiliary program,
AURORA Expanded
, is a citywide program focused on spotlighting and supporting North Texas artists through a year-round series of site-specific installations, special events and social gatherings. Its most recent event—'
Area 3
,' an immersive, drive-thru exhibition in a parking garage—directly supported regional artists and vendors whose incomes were directly impacted in the wake of COVID-19. Other AURORA Expanded events have included educational programs as well as exhibitions and performances held in parallel to the Biennial exhibition to activate additional art spaces throughout Dallas.
AURORA ARTIST RELIEF FUND
In an extra effort to support the North Texas creative community as it faces Covid-19, AURORA launched its
Artist Relief Fund
in the summer of 2020. Through this initiative, artists who have been financially impacted by the pandemic have been able to apply to receive $4,000 USD grants.
The first round of funding was distributed in autumn 2020, followed by a second round of funding in spring 2021. The second round of Artist Relief Grants were specifically for self-identifying BIPOC (Black, Indigenous and People of Color) artists in North Texas. Supported by
PNC Foundation
, $20,000 was distrubited to five grantees ($4,000 each) and a business wellness program was also established. The goal was to support BIPOC artists in North Texas financially and through mentorship designed to enhance the entrepreneurism of individual artists to help them flourish in a post-pandemic world.
---
AURORA is a component fund of The Dallas Foundation, a 501(c)(3), publicly supported charity, Federal Tax ID 75-2890371. All contributions to the AURORA Fund of The Dallas Foundation are tax deductible, as allowed by law.
Click
here
to see what was featured at previous AURORA events.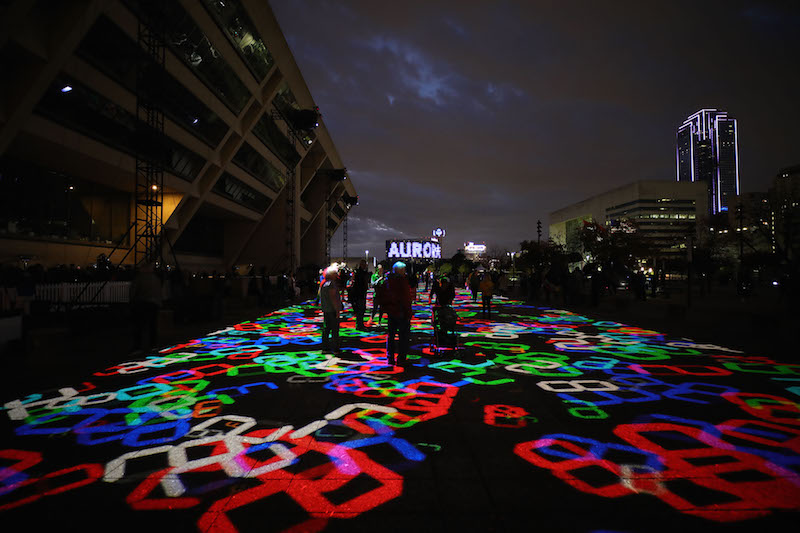 Video, AURORA Expanded: 'Area 3'

Video, AURORA 2018:
Future Worlds
James Guerts, Periphery, AURORA 2015
Shane Pennington
Aurora Co-Founder,
Creative Director


Joshua King
Aurora Co-Founder,
Executive Director


Veletta Forsythe Lill
Aurora Co-Founder, Founding Executive
Director of the Dallas Arts District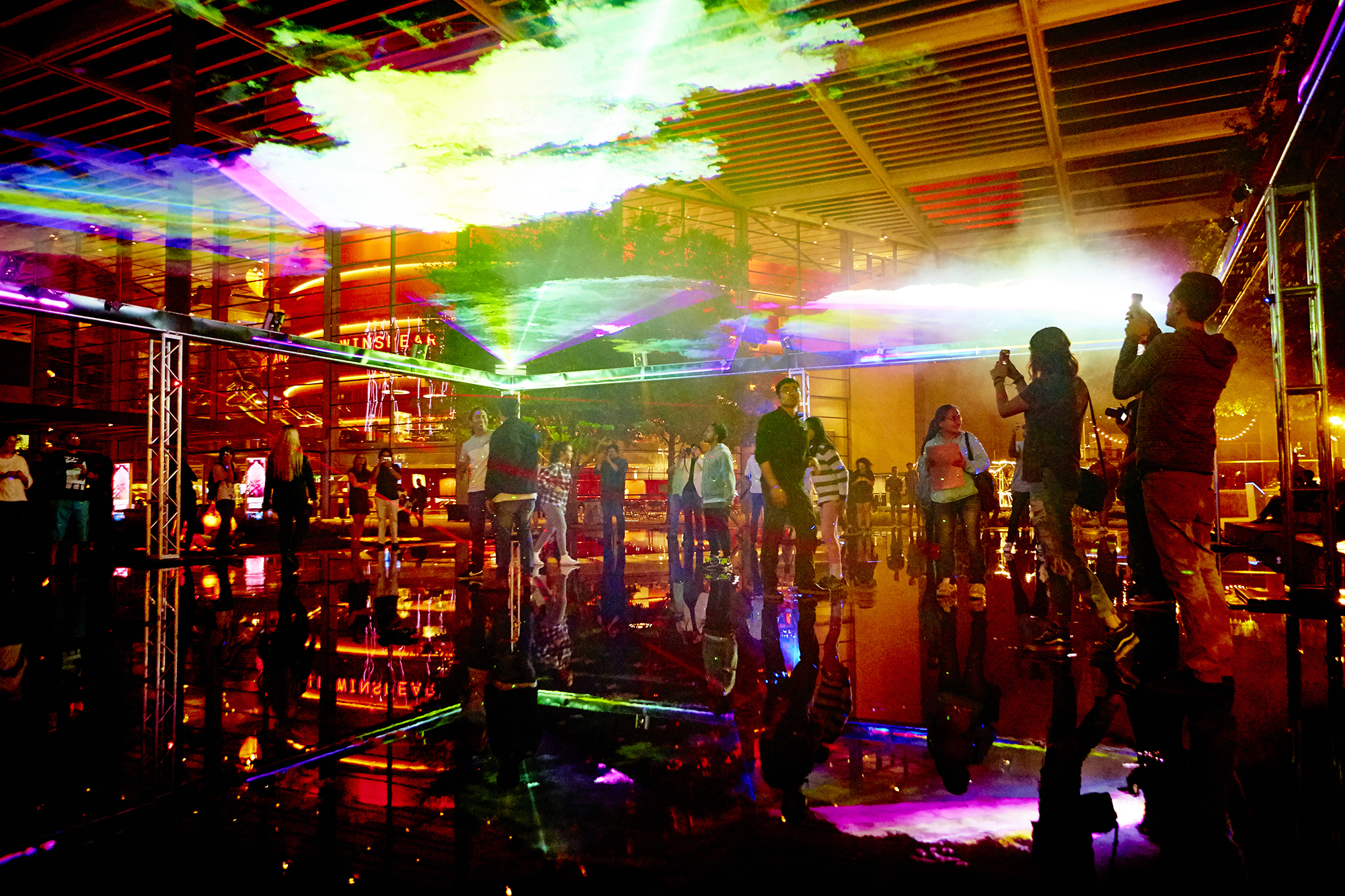 Undervolt & Co., Cilla Sutfin, AURORA 2015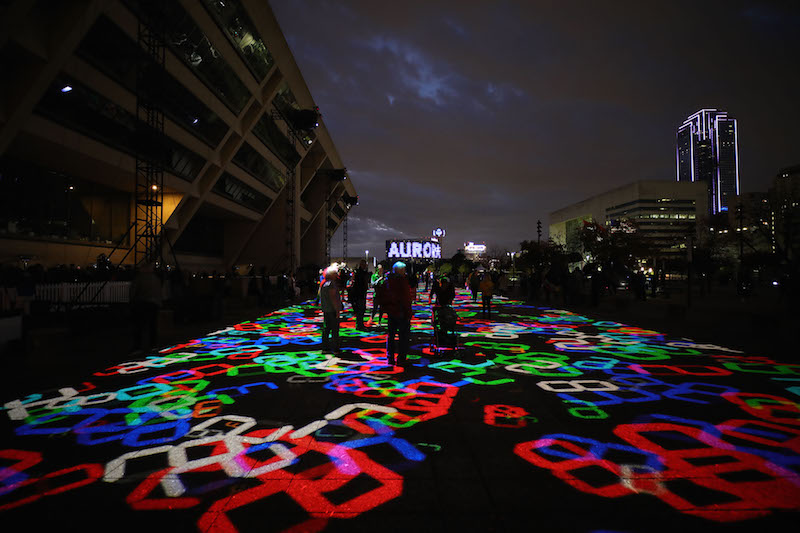 Miguel Chevalier, AURORA 2018, photo by Nicolas Gaudelet
Refik Anadol, AURORA 2018, photo by Paperlyte

Bruce Wood Dance, AURORA 2018, photo by Paperlyte

teamVOID & Youngkak Cho, AURORA 2018, photo by Paperlyte
James Talambas, AURORA 2018, photo by Paperlyte
Alicia Eggert, AURORA 2018, photo by Paperlyte
Erica Felicella
Executive Producer
Monica Salazar (MONA productions)
Director of Programming
Anna Russ (MONA productions)
Marketing & Communications
Corey Moulton
Administrative Assistant
Marsha Singer
Exhibition Logistics Coordinator
Tractorbeam
Design
Carr Salvo
Projectionist

AURORA 2015