ABOUT AURORA
AURORA is a Dallas-based public arts organization at the intersection of art, technology and community that presents works by the most visionary artists of our time. A cornerstone of arts and culture in North Texas, AURORA aims to expand the future of art through a dialogue that engages the creative possibilities within ourselves and each other.
Since its founding in 2010 by artists Shane Pennington and Joshua King, along with veteran Dallas arts supporter Veletta Forsythe Lill, the AURORA Biennial has attracted more than 170,000 visitors, and commissioned and presented over 300 local and international artists. It continues to expand its reach and impact, boasting a 5:1 return in economic impact to the city associated with the biennial event. Through the initiative and support of the Dallas arts community, AURORA has expanded over the years from a small public arts organization to a multifaceted institution with the ability to give back to artists and creatives in the region. AURORA is a component fund of The Dallas Foundation, a 501(c)(3), publicly supported charity, Federal Tax ID 75-2890371. All contributions to the AURORA Fund of The Dallas Foundation are tax deductible, as allowed by law.
Click
here
to see what was featured at previous AURORA Biennials.
AURORA 2018: 'Future Worlds'
James Guerts, Periphery, AURORA 2015
Shane Pennington
Aurora Co-Founder,
Creative Director


Joshua King
Aurora Co-Founder,
Executive Director


Veletta Forsythe Lill
Aurora Co-Founder, Founding Executive
Director of the Dallas Arts District




Undervolt & Co., Cilla Sutfin, AURORA 2015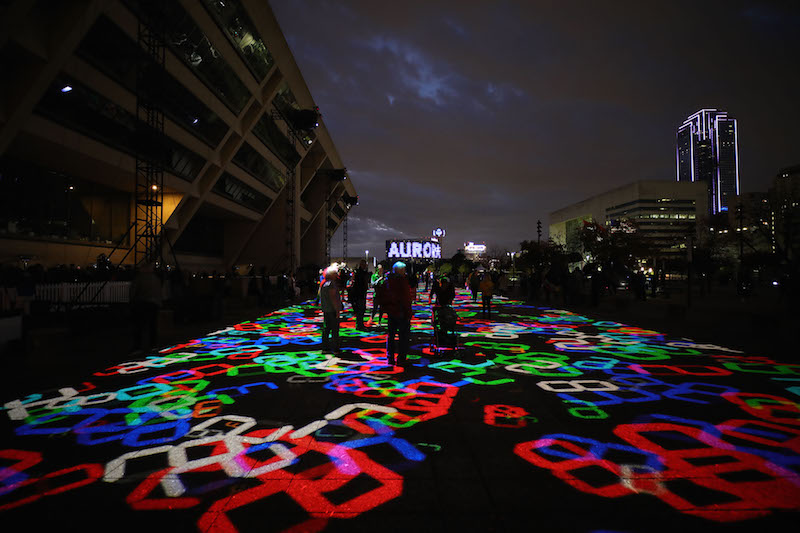 Miguel Chevalier, AURORA 2018, photo by Nicolas Gaudelet
Refik Anadol, AURORA 2018, photo by Paperlyte

Bruce Wood Dance, AURORA 2018, photo by Paperlyte

teamVOID & Youngkak Cho, AURORA 2018, photo by Paperlyte
James Talambas, AURORA 2018, photo by Paperlyte
Alicia Eggert, AURORA 2018, photo by Paperlyte
Erica Felicella
Executive Producer
Monica Salazar (MONA productions)
Director of Programming
Anna Russ (MONA productions)
Marketing & Communications
Marsha Singer
Exhibition Logistics coordinator
Tractorbeam
Design
Carr Salvo
Projectionist

AURORA 2015