LIGHT YEAR 79: MOMENTARY
AURORA teamed up with
LIGHT YEAR
to present
Momentary,
an exciting program of video artworks by North Texas artists that were projected onto the Manhattan Bridge in New York City's Dumbo district on November 4th, 2021. The program was also streamed live on LIGHT YEAR's
Facebook
at the same time, and screened in Berlin at
SCOPE BLN
.
The full program is now available online. Watch it
here
.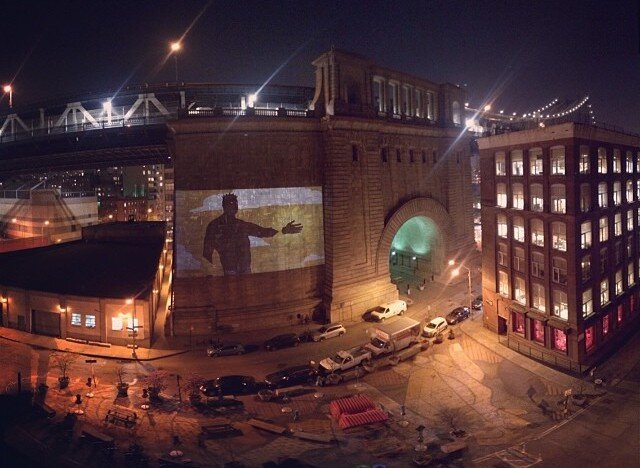 Installation shot from LIGHT YEAR 1: "Submerged!" presented on the Manhattan Bridge, June 2015. Still from "The Floater," by Shir Lieberman, Jonathan Phelps and Fabio Fonda.
The video art program, titled
Momentary
, was organized by Mexico City and Texas-based curator
Leslie Moody Castro
as
a brief and temporary rest, a time to be within the details of each video vignette. These are the slow and gradual details of intimacy and identity, of beauty in the banality of movement, of the delicate details of our pores and porousness. It was an invitation to slowness, to near stillness in movement, into a shift that invites a pause, an intermission, a breath.
Each video in this grouping asks the world to slow down, to see through a different lens, and at times, to separate vision and think beyond the body, beyond time and space, and into a world of slowness, a world of transition, a world within nuance.
The exhibition line-up included artworks by six North Texas-based multimedia artists:
Kelsey Baker, Jeremy Biggers, Melanie Clemmons, Hector Ramirez, Tramaine Townsend, Jennifer Wester
.
Watch the full program online
here
.
For more information on the program,
click here
.
The event was supported by the
Sapphire Foundation
.
ABOUT LIGHT YEAR
LIGHT YEAR
, an ongoing international program of video art, is presented every first Thursday of the month since 2015 in Brooklyn, NYC, as well as in Berlin, Germany, and live-streamed online. Organized by curator Leo Kuelbs, John Ensor Parker, and Creative Team Glowing Bulbs, with support from Dumbo BID and the NYC DOT, the program is presented free of charge and connects viewers to a global selection of contemporary video and technology-based work.
[Video still] Jeremy Biggers, 'Harvest,' 2021
[Video still] Kelsey Baker, 'Double Vision,' 2019, single channel video, 5min 16sec
[Video still] Melanie Clemmons: 'Log Off the Computer', 2019 Single channel video, 01:52
[Video still] Jennifer Wester, 'Occupancy,' 12.4.2020, 9 min 54 sec
CURATOR

Leslie Moody Castro
is an independent curator and writer based in Mexico City and Texas where she has produced, organized and collaborated on projects for more than a decade. Her practice relies on itinerancy and collaboration, and her repertoire of critical writing and exhibitions illustrates her commitment to place in her practice. In addition to the belief that the visual arts create moments of empathy, Moody Castro also believes that Mariachis make everything better.
---