< Home

NEWS
Watch Jess Garland's new film 'Harp and Sol' exclusively on DallasAurora.com

Starting on May 29, 2021, you'll be able to watch Jess Garland's new experimental film Harp and Sol exclusively on our website! Harp and Sol traces the history of environmental racism in Dallas from the Joppee neighborhood to the recently dismantled illegal trash dump Shingle Mountain. Pairing footage of these areas with an original score by Garland, the film pays homage to the land and lives affected by zoning laws and local policy.
Garland, a Dallas-based singer-songwriter and performing artist, was inspired to make this project through her involvement with Southern Sector Rising, an activist non-profit that seeks to offer marginalized Dallas residents health equity by ending decades of racist zoning. Harp and Solspeaks to Dallas's environmental racism and also honors the lives and work of Black women.
Learn more about the project
here.
Film stills from Jess Garland's Harp and Sol (2021)
'New Stories: New Futures' will debut in Fort Worth in summer 2021

AURORA is partnering with the Arts Council of Fort Worth to present the two-part project 'New Stories: New Futures' around Pioneer Tower at Will Rogers Memorial Center this August! One part of the project will be two major installations on Pioneer Tower by international artists Refik Anadol and Quayola, curated by DooEun Choi and commissioned by Fort Worth Public Art. The second part of the project will be a supporting exhibition curated by Dr. Lauren Cross and featuring works by a diverse array of North Texas new media artists.
The event will be held on the night of August 20th from 9pm to 1am. It is free to attend but tickets must be booked in order to control the flow of people and maintain distancing.
You can learn more about 'New Stories: New Futures' and will be able to book your tickets via fwpublicart.org
.
Artwork proposal renderings courtesy Refik Anadol Studio © 2020, Refik Anadol Studio, LLC

AURORA and Parks for Downtown Dallas are bringing an interactive sculpture to Dallas's newest green space!
From March 28 to April 4, 2020, AURORA will present ANTIBODIES, a new interactive installation by Montreal-based artist Daniel Iregui at Dallas's newest park along with a corresponding online experience.
The work, presented in partnership with Parks for Downtown Dallas, takes the form of a double-sided larger-than-life LED wall and will be presented in West End Square, the very first green space in the city's West End Historic District. ANTIBODIES tracks the faces of participants and elicits them to make facial expressions. Activated by motion sensors as visitors walk by and interact with the piece, the installation reflects on the monotony of video calls—today's imposed form of social gatherings.
Iregui's digital sculpture will be the first project showcased within West End Square's Innovation Arcade, a section of the park designed to showcase a rotation of temporary digital installations. Masks and social distancing will be required when interacting with ANTIBODIES.
Save the date and see you soon!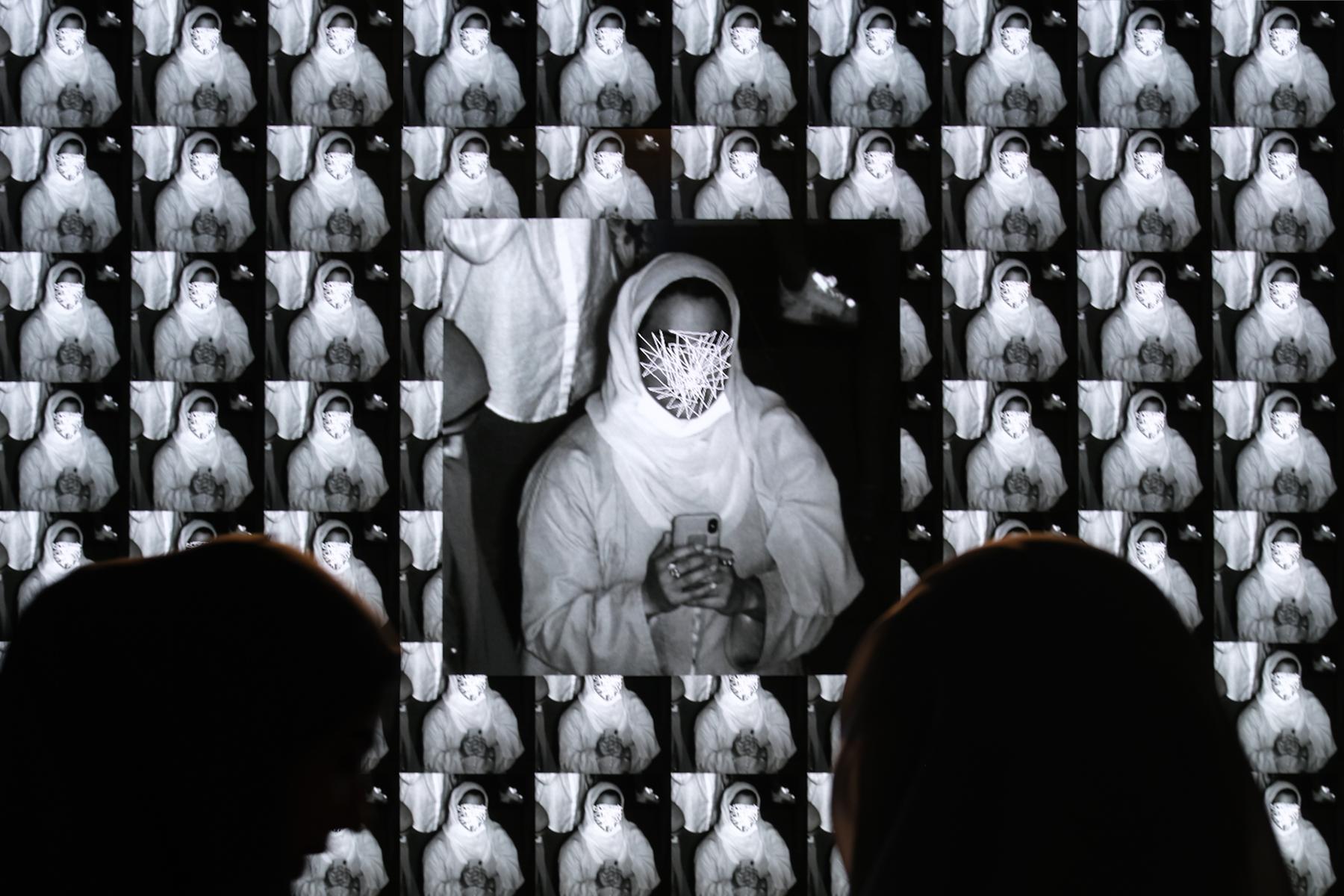 Still from
ANTIBODIES – Dubai, UAE
from
Iregular
on
Vimeo
.
AURORA and PNC Foundation launch Artist Relief grants

AURORA is pleased to award a second round of Artist Relief Fund grants with support from the PNC Foundation. This round of grants will distribute $20,000 to five self-identifying BIPOC artists in North Texas who have suffered from the devastating economic impacts of the pandemic. Each grantee will receive $4,000 along with the opportunity to participate in a business wellness program with workshops and mentorships on best business practices.
The goal of this funding is to support BIPOC artists in North Texas financially and through mentorships designed to enhance the entrepreneurism of individual artist to help them flourish in a post-pandemic world.
Grantees will be selected by an independent panel of artists and other art professionals who represent the BIPOC artist community in North Texas.
You can learn more about the grants and application process here
.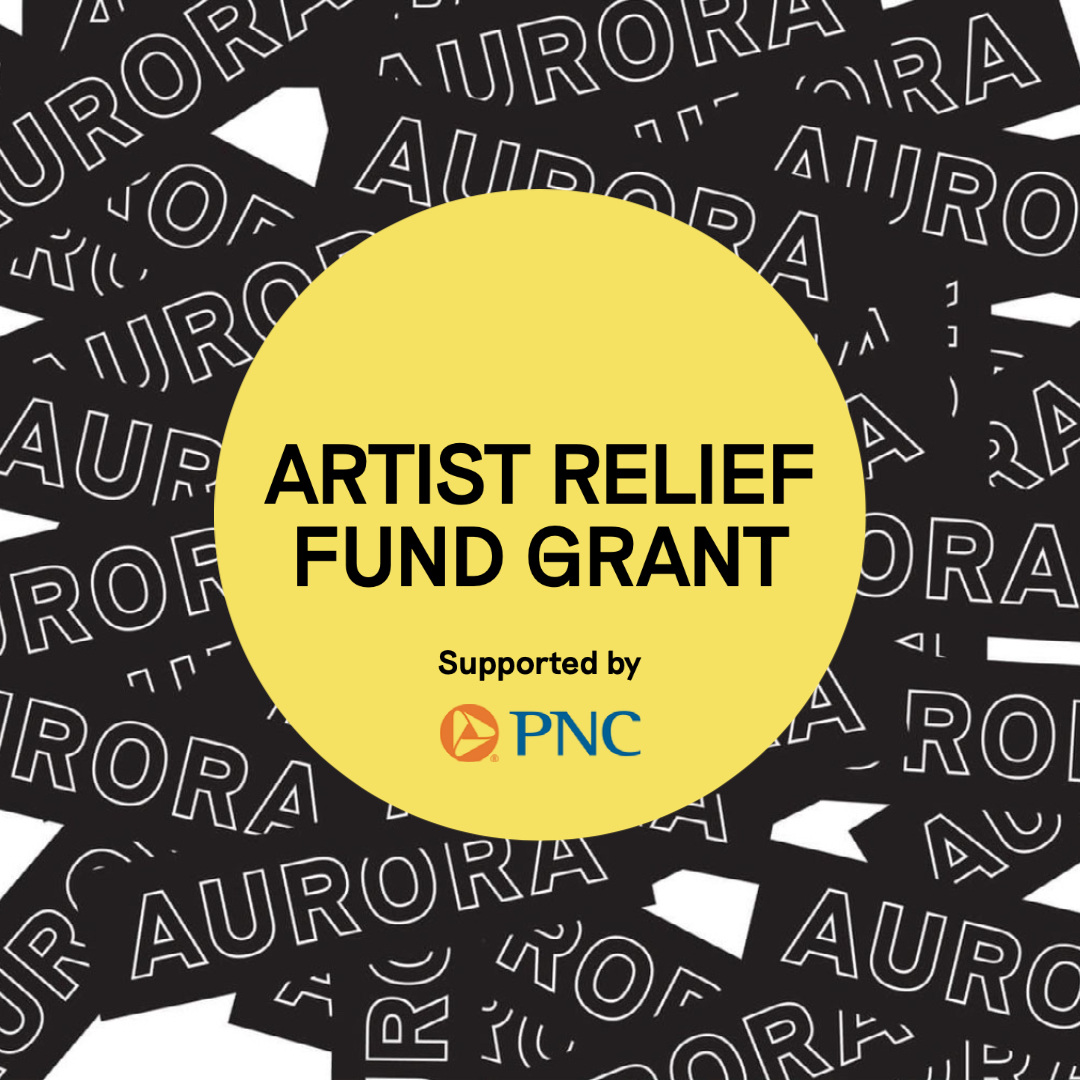 See Jan Tichy's projection onto Dallas City Hall and visit young artists' work at Oak Cliff Cultural Center

Within the framework of the AURORA Biennial 2020-21, the Chicago-based artist and educator Jan Tichy created a three-part collaborative project,
Remote Pyramids
. As part of this project, he projected a public artwork onto Dallas City Hall on January 23. We documented the projection in this video.
And don't forget: The artworks by young artists who were part of Remote Pyramids can be viewed in the windows and storefront of Oak Cliff Cultural Center through March 6 and the project's digital component can be explored via
remotepyramids.org
.
Jan Tichy: Remote Pyramids, 2020

Announcing Jan Tichy's three-part collaborative artwork Remote Pyramids, part of the AURORA Biennial 2020-21
The AURORA Biennial 2020-21 will continue in January 2021 with a new three-part collaborative project,
Remote Pyramids
, led by the Chicago-based artist and educator Jan Tichy. Through creative dialogue, Tichy connected a group of resettled refugee teenagers from the Vickery Meadow neighborhood in Dallas with a group of teenagers with their own migration experiences from the Oak Cliff neighborhood. The project's digital space,
remotepyramids.org
, will launch on January 12 and on January 23 a public artwork by Tichy will be projected onto the Dallas City Hall. Additionally, from January 23–March 6, artworks created by six participating young artists will be on view in the windows and storefront of Oak Cliff Cultural Center.
Portrait Jan Tichy
Virtually drive through Marina Rosenfeld's Ssalute and learn more about the project from the artist herself

From November 6–15, AURORA held the world premiere of Ssalute, a newly commissioned sound installation and performance by internationally renowned artist Marina Rosenfeld, as part of the AURORA Biennial 2020-21. We also held an online artist talk with Rosenfeld, hosted by the biennial curator Noam Segal, in which they discussed the artist's practice and her new work. Both can now be re-lived in two videos on our YouTube channel.
Watch a drive-through of Marina Rosenfeld's Ssalute.
Watch the artist talk with Marina Rosenfeld.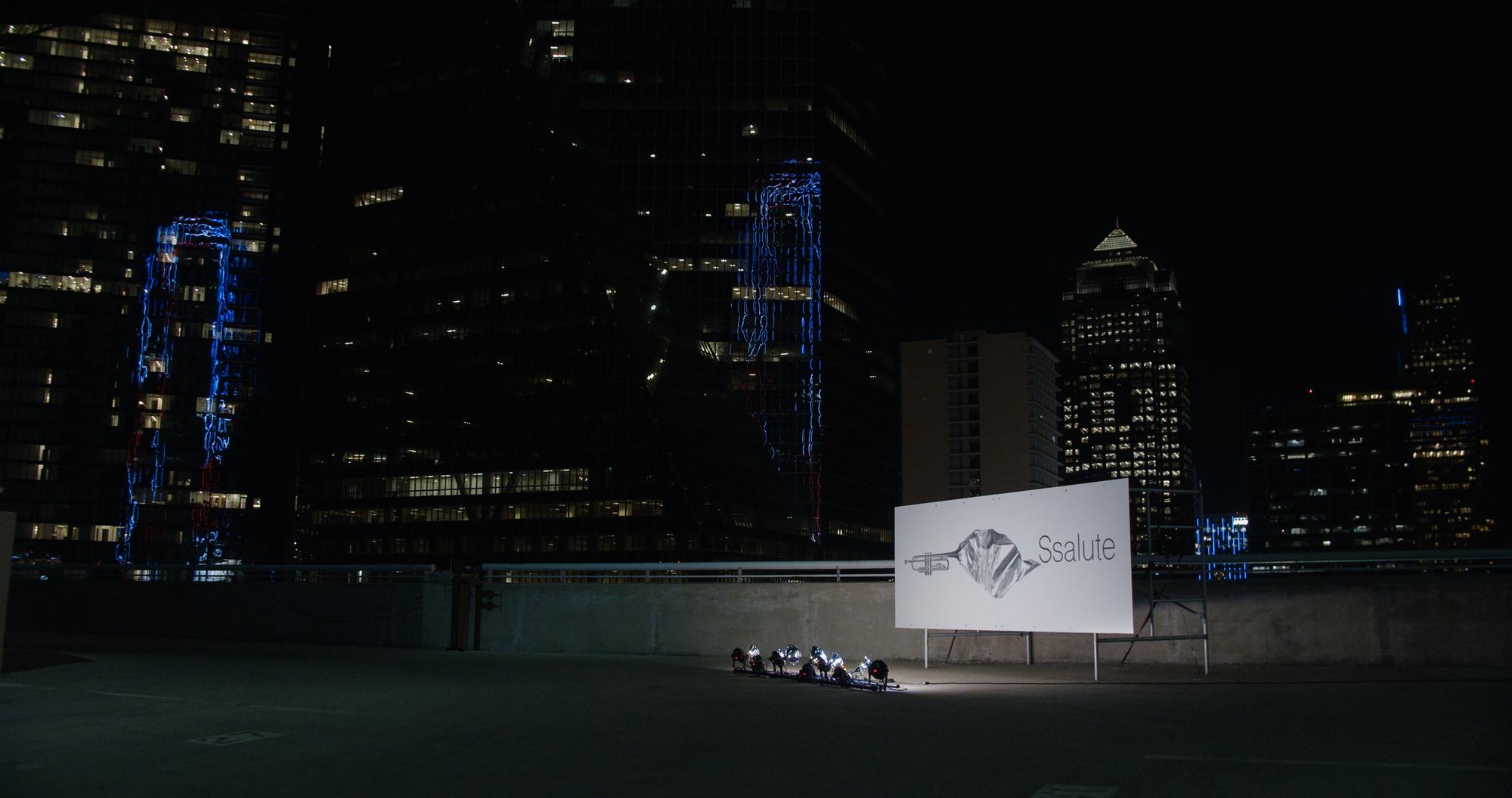 Marina Rosenfeld: 'Ssalute', Installation view, 2020
Re-watch the AURORA Biennial 2020-21 opening presentation
Want to learn more about the AURORA Biennial 2020–21 and its theme, 'Afterwards was already before'? You're in luck: The opening presentation with insights from AURORA Executive Director Joshua King, Curator Noam Segal, Associate Curators Tamara Johnson and Trey Burns, artist Jan Tichy, Tichy's local collaborators, and artist Jess Garland can now be viewed on AURORA's YouTube channel!
Watch AURORA Biennial 2020-21 Opening Presentation
.
AURORA kicks off its 2020-21 Biennial with a project by Marina Rosenfeld

AURORA is pleased to announce the program and details for its fifth biennial edition led by Curator Noam Segal and Associate Curators Tamara Johnson and Trey Burns. Titled '
Afterwards was already before
,' AURORA's 2020-21 Biennial will unfold over the next year in a new decentralized program format, kicking off a project by artist
Marina Rosenfeld
.
Created in response to worldwide changes induced by the COVID-19 pandemic, the format of AURORA's Biennial will include socially distanced and digital projects. A digital opening presentation for the 2020–21 Biennial will take place on October 28, 2020, followed by the launch of the program on November 6 with the world premiere of
Marina Rosenfeld
's newly commissioned sound installation and performance Ssalute. There will also be an artist talk with Marina Rosenfeld and Noam Segal on November 6, 2020 at 2pm CST. Ssalute will be hosted until November 15 at
Laz Parking Garage,
1200 Ross Ave, Dallas 75202 and while it will be free to the public, reservations
must be booked ahead of time
.
Announcing the second round of Artist Relief Fund grants

AURORA is pleased to announce a second round of Artist Relief Fund grants specifically for self-identifying BIPOC (Black, Indigenous and People of Color) artists in North Texas who have suffered from the devastating economic impacts of COVID-19.
Supported by PNC Foundation, the AURORA Artist Relief Fund will distribute $20,000 to five grantees ($4,000 each) and will also establish a business wellness program with workshops and mentorship on best business practices.
The application period will open on February 19 and close on March 15, 2021. Those interested can
learn more about eligibility requirements and the submission process here
.
'Area 3': A drive-through exhibition in support of artist relief and local vendors
Coming October 1
We're excited to announce
Area 3
, an immersive exhibition which will transform over 100,000 square feet of a parking garage in downtown Dallas. Separate from Dallas AURORA's biennial program—which will be announced soon—
Area 3
will function on a shared profit model in an experiment to support local artists and vendors whose income has been affected in the wake of COVID-19.
Featuring works by sixteen regional artists, the exhibition will include large-scale light, video and sound installations as well as performances which will be viewable from the safety of attendees' own cars.
Area 3
will take place in the DalPark Parking Garage (
1600 Commerce St, Dallas, TX 75201
) from October 1, 2020 – January 1, 2021. Timed tickets, which are $30 per car, must be purchased online before arrival. Purchase tickets at
area3.site
.
Artist List
Eric Trich
&
Taylor Cleveland
Alicia Eggert
Danielle Georgiou
Hal Samples
&
Favian Herrera
Melanie Clemmons
&
Zak Loyd
Zuyva Sevilla
David Stout
Francine Thirteen
Tramaine Townsend
Blake Weld
Brandy Michele Adams
+ Michael Moore + Robert Anthony
Area 3
is made possible by the generous support from: Downtown Dallas Inc., The Sapphire Foundation, Preciate, The Dallas Office of Art and Culture, Tractorbeam, Ruibal's, Inlight-Gobo's and 900 Lbs.
Founding Media Sponsor:
The Dallas Morning News
AURORA would like to thank the following Foundations and individuals for their continued support:
Lydia and Bill Addy, Beth and Peter Beck, Nancy and Randy Best, Barbara and Mason Brown, Christie and Trey Brown, Lucilo Pena and Lee Cobb, Emily and David Corrigan, Catherine Corrigan, David B. Deniger, Claire Dewar, Bill and Rusty Duvall, TurningPoint Foundation, Hartland & Mackie Family Foundation, Fanchon and Howard Hallam, Cinda and Thomas Hicks, Mary Jalonick, Nancy and Mike Kerr, Carol and John Levy, Sarah and Alan Losinger, Vicki and Brian Miller, Susan and Bill Montgomery, Jay and Ruthie Pack, Cindy and Howard Rachofsky, Cynthia and Charley Redden, Stacey and Gerald Ridgeley, Deedie Rose, Catherine and Will Rose, Stephanie and Mark Ruibal, and Nicole and Justin Small.
Join AURORA on North Texas Giving Day this Thursday, Sept 17th!
Thursday, September 17th is North Texas Giving Day
—the day to make a direct difference in the North Texas arts community. AURORA is participating with the aim to bring our region's artists the support they deserve and to continue developing our programming.
We kindly ask for our community's support so we can continue providing financial assistance to North Texas artists through our Artist Relief Fund as well as continue our impactful, educational, public art programming. 70% of funds raised on
NTxGD
will be allocated to our
Artist Relief Fund
, with the remaining 30% going towards our ongoing
educational
and
public
programming.
Set a calendar reminder for Thursday and help AURORA continue its community-oriented mission and supporting the arts of the future by making a donation.
Donations can also be made early
and don't forget: Every contribution makes a difference, no matter the size!
INAUGURAL ARTIST RELIEF GRANT RECIPIENTS: OSHAY GREEN & HAILEY SUMMERS

AURORA is excited to announce
Oshay Green
and
Hailey Summers
as the first recipients of the organization's inaugural Artist Relief Fund grants. Green and Summers, both of whom are North Texas natives, will each receive a
$4,000 grant
, enabling them to continue their artistic practice and community engagement.
Oshay Green, a self-taught, interdisciplinary artist, frequently works with sound, wood, concrete and found objects to explore the ritualistic functions of objects found throughout various mythological histories and religions with object-based ontologies. He is currently preparing a project, slated for 2021, focused on obsidian objects inspired by Aztec mythology.
Hailey Summers is a movement artist, educator, choreographer and event curator whose work is dedicated to fostering new understandings of expression through movement. In the coming months, she plans to create accessible dance spaces for her students in the Dallas Independent School District, including those at Booker T. Washington—a close partner of AURORA as well as Hailey's alma mater—and even younger students at South Dallas elementary schools.
Again, we would like to extend our congratulations to Oshay and Hailey and also thank each and every artist who applied for our initial round of funding—we received hundreds of applications and the decision-making process was not easy.
To stay up to date with AURORA, including additional Artist Relief Fund open calls and upcoming programming, follow us on
Facebook
,
Twitter
and
Instagram
.
AURORA Announces Year-Round Program & Artist Relief Fund
In light of the worldwide developments over the last few months, AURORA
recently announced
that it will be developing new initiatives to create more opportunities and resources for Dallas's artistic community and general public. These plans include a transition from a large-scale biennial event—which was originally scheduled for November 7, 2020—to an organization with year-round, socially-distanced immersive experiences, digital initiatives and educational programming, as well as the launch of an emergency
artist relief fund
.
The emergency artist relief fund is targeted to support North Texas–based artists who are facing financial distress due to the Covid-19 pandemic with individual grants of $4,000. To learn more and to apply,
click here
.
In terms of the forthcoming programming, our previously announced curatorial team remains committed to the extended format and further details will be announced in the coming weeks. So continue checking back,
sign up for our newsletter
, and follow us on
Twitter
,
Instagram
and
Facebook
to stay up-to-date with the latest news.
Oshay Green: Untitled (brush, railroad tie, rope, charcoal, concrete, ink) at And Now gallery (2019); Photo by Kevin Todora

Hailey Summers, photo by Vincent Hardy

AURORA Announces 2020
Associate Curators


AURORA continues to expand with

Tamara Johnson

and

Trey Burns

joining us as our 2020 Associate Curators. Working together with 2020 Curator

Noam Segal

, they will support the realisation of our most exciting biennial exhibition to date, coming this November.

In 2018, Johnson and Burns co-founded Sweet Pass Sculpture Park, an outdoor exhibition space on a one-acre plot of land in West Dallas. Since opening, they have worked with over 100 local and international artists, students from universities in the Dallas–Fort Worth area, and various organizations and institutions, like the Dallas Boys & Girls Club, the Nasher Sculpture Center, the Dallas Museum of Art, and North Park Center.

Johnson, who received her MFA from the Rhode Island School of Design, is currently a visiting lecturer in sculpture at the Southern Methodist University and Burns received his MFA from the Savannah College of Art & Design. Before moving to Dallas, they both lived and worked in New York. Most recently, they have been awarded a micro-grant from the Nasher Sculpture center and a National Endowment for the Arts grant in conjunction with Wassiac Projects to continue their work with Sweet Pass.

We're delighted to have these two esteemed Dallas artists and curators on our AURORA 2020 team and can't wait to see what they bring to the table
AURORA 2020 Associate Curators, Tamara Johnson and Trey Burns. Photo courtesy of Nan Coulte
AURORA Welcomes
New Honorary & Co-Chairs


AURORA warmly welcomes former Dallas Mayor Mike Rawlings and Micki Rawlings as new Honorary Chairs, along with philanthropists Susan Byrne Montgomery, Bill Montgomery and Molly Byrne as new Co-Chairs. We're pleased to have such outstanding civic and philanthropic leaders of Dallas join the AURORA family.

The new Co-Chairs will work with our Host Committee in supporting AURORA's 10-year anniversary this fall, which will bring with it our most exciting and significant event to date.





AURORA Announces 2020 Curator



AURORA is pleased to announce

Noam Segal

as the curator of the AURORA 2020 biennial exhibition, taking place in November 2020. Working with both local and international artists, Segal will realize AURORA's expansive exhibition of technology-based public art in downtown Dallas. A Brooklyn-based independent curator and writer, Segal's practice focuses on contextualizing and supporting artists in producing new media art.

Segal received her Ph.D. in the Hermeneutics and Culture department at Bar Ilan University (Tel Aviv) and has collaborated with numerous international artists, museums and non-profits alike. She's presented the work of artists such as Neïl Beloufa, Pope.L, Sharon Hayes, Anri Sala, Ulla Von Brandenburg and Pauline Boudry and Renate Lorenz at prestigious international biennials and institutions, including Palais de Tokyo (Paris), Brooklyn Academy of Music (BAM), MOCO (Montepellier, France), Performa (NYC), Museum of Contemporary Photography Chicago and Tel Aviv Museum of Art, among others.

Additionally, Segal has contributed written work to a range of journals, artist catalogues and essay compilations, published by the likes of Konrad Fischer Galerie, Routledge Press, Mousse Magazine, Castello di Rivoli and the Atlántica Journal for Art and Thought. She has given talks, curated symposiums and participated in residencies around the world, including at the School of Visual Art (NYC), Kunstverein Nüremberg (Germany), KW Institute for Contemporary Art (Berlin), Mitchell-Innes & Nash (NYC) and Sotheby's (NYC).

As of January 2020, she will be a visiting scholar in the department of performance studies at NYU's Tisch School of the Arts. Segal is also a faculty member of the MFA program at Bezalel Academy of Arts and Design (Jerusalem) and a visiting faculty member of the MFA program in the department of painting and printmaking at Virginia Commonwealth University.

As AURORA proudly celebrates its tenth year, we warmly welcome Segal as the curator for our 2020 edition and look forward to working with her to realize our next large-scale outdoor, public exhibition.

Learn more about Noam Segal's past work and practice on her

website

.
AURORA 2020 Curator: Noam Segal