Date:
August 20–21, 2021
Time:
9:00 pm – 1:00 am
Location:

Pioneer Tower at Will Rogers Memorial Center
in the Cultural District
3401 West Lancaster Avenue,
Fort Worth, TX 76107
Click here to see the full program calendar.

PIONEER TOWER
The Arts Council of Fort Worth
and AURORA partnered to present
New Stories: New Features
around Pioneer Tower at Will Rogers Memorial Center in conjunction with Fort Worth Public Art's major installation on Pioneer Tower, curated by
DooEun Choi,
which featured international artists
Refik Anadol
and
Quayola
commissioned by the City of Fort Worth
.
Learn more here.
SUPPORTING EXHIBITION
The supporting exhibition at the base of Pioneer Tower was curated by Fort Worth-based
Dr. Lauren Cross
, who has selected a diverse roster of ten North Texas artists working with a wide range of new media approaches for their art installations. In addition, the exhibition featured new narratives describing the collective experiences of Fort Worth and, more broadly, North Texas.
New Stories: New Futures
illuminated Fort Worth with an eclectic variety of site-specific installations presented throughout the grounds of
Will Rogers Memorial Center on
August 20-21
.
Learn more here.
Supporting exhibition artists:
Nick Bontrager
,
Jessica Fuentes,
Jeff Gibbons,
Letitia and Sedrick, Huckaby (Huckaby Studios),
Ciara Elle Bryant,
Raul Rodriguez,
Jin-Ya Huang,
Bernardo Vallarino,
Angela Faz
Quayola,
Texas Surveys
, 2021. Photo by Paperlyte.
Ciara Elle Bryant,
Server: Checks on the Block
, 2021. Photo by Paperlyte.
Bernardo Vallarino,
Lamentación
, 2021. Photo by Paperlyte.
Angela Faz,
Water has a memory/Remembering
, 2021. Photo by Paperlyte.
PIONEER TOWER

To create their works, both Anadol and Quayola took advantage of the newest artificial intelligence and data visualization technology. For Pioneer Tower Dreams, Anadol captured and reimagined Fort Worth citizens' memories of the city using machine learning algorithms. Quayola's Texas Surveys: New Pointillism, Landscape Scans and Horse Paintings explored the natural beauty of Fort Worth through what he calls "computational paintings," which visualize data captured from sources such as laser-scanned trees or the motion-captured movement of horses.
CURATOR

DooEun Choi
has recently served as curator of the touring exhibition
Quayola: Asymmetric Archaeology
in Asia and a guest curator of BIAN 2020, International Digital Art Biennial in Montreal. Choi was co-curator of Aurora 2018 in Dallas and art director of Da Vinci Creative 2015 and 2017. Since 2000, she has curated numerous international media art exhibitions in Kyoto, Beijing, Shanghai, Madrid, Geneva, Enghien-les-Bains, Istanbul, Brisbane, Montreal, San Jose, New York, and many other cities across Korea. Choi's recent projects include
Neotopia: Data and Humanity
at Art Center Nabi (2017-2018),
Uncanny Valley?
, Da Vinci Creative 2017 at Seoul Foundation for Arts and Culture;
Han Youngsoo: Photographs of Seoul 1956–63
at International Center of Photography at MANA (2017);
Why Future Still Needs Us: AI and Humanity
at Art Center Nabi in Seoul, QUT Art Museum in Brisbane (2016–17);
BIAN
, at Arsenal Montreal (2016); Media City Seoul 2012 Biennale, at Seoul Museum of Art; and
ZERO1 Biennial 2012
, at Zero1 Garage.
SUPPORTING EXHIBITION
Beyond Pioneer Tower, AURORA and FWPA presented a supporting exhibition curated by Dr. Lauren Cross. The show featured artworks by North Texas artists who work with technology-based media.
CURATOR
Dr. Lauren Cross
is an interdisciplinary artist/filmmaker, curator, and scholar whose work has been screened and exhibited across the country. Cross earned her BA (2006) in Art, Design, and Media from Richmond, the American International University in London, England, and her MFA (2010′) in Visual Arts from Lesley University in Cambridge, MA. She has a Ph.D in Multicultural Women's and Gender Studies from Texas Woman's University in Denton, TX (2017).
Cross' feature film,
The Skin Quilt Project
, was an official selection for the 2010 International Black Women's Film Festival in Berkeley, CA and screened at various museums, universities/colleges, and community organizations across the country. She is a passionate advocate for diversity in the arts, and has written and contributed research in fields of women's studies, visual studies, and multicultural studies. In 2013, Cross was among three Fort Worth artists selected for the 2013 Fort Worth Weekly Visionary Awards.
Discover more about her work here:
laurenecross.com
THEME: 'NEW STORIES: NEW FUTURES'
by Dr. Lauren Cross
If the past year has taught us anything it is the importance of seeing and thinking differently. As a curator and scholar, I am always challenged to reimagine and rethink everything, and to allow myself to be open to the creative impulses of the artist. As an artist myself, I respect, take very seriously, and see the value in the artist's voice. With that in mind, I see exhibitions as responsive, critical platforms for prospective cultural awareness and exchange.
When I was given the opportunity to curate this monumental outdoor exhibition in conversation with the Pioneer Tower Public Art Project in Fort Worth, I was excited about the opportunity to work in collaboration with Fort Worth Public Art and Aurora to select artists who could contribute new narratives about our collective experiences within Fort Worth and North Texas more broadly. Thinking about the Pioneer Tower Project and its ambitions to tell stories that represent all of Fort Worth, I was interested in how I might translate a similar idea within the exhibition as well as featuring artists who bring diverse approaches both in their lived experiences as well as within their art.
Click here to read the full theme text.
Thank you to our sponsors: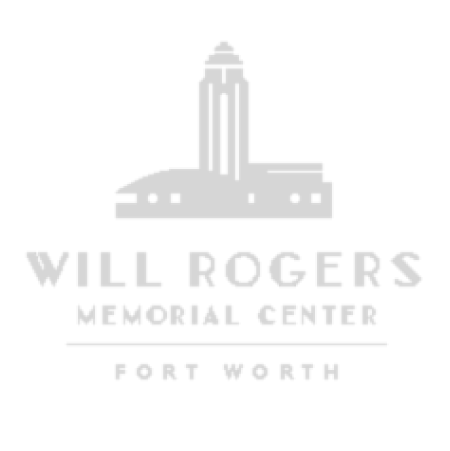 ---